Explore Our Personal Loans
Secured Loans
Use your Savings or Certificate Accounts as collateral to secure low interest loans. Available immediately - no application to fill out!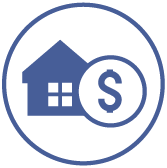 Home Equity Line of Credit
Have a big project and need some cash? Tap into the value of your home to get cash now for various financial needs.
Personal Line of Credit
An account that lets you borrow money when you need it, without using your savings or house as collateral.
Rates
All Loans