Selfreliance Scholarships
In 2020, recognizing that a good education is vital to being successful in life and that tuition costs are continuously rising, Selfreliance FCU announced a scholarship program to empower its young members to pursue their career and educational goals. The program was repeated in 2021, and fifteen college students were awarded $1,000 scholarships.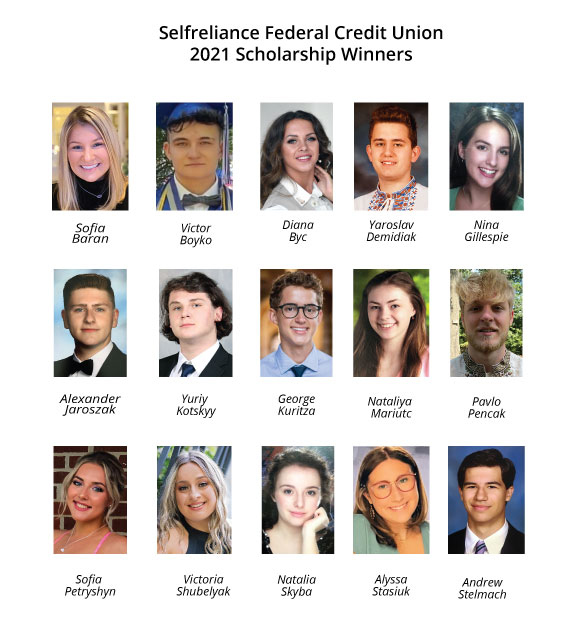 Sofia Baran
Victor Boyko
Diana Byc
Yaroslav Demidiak
Nina Gillespie
Alexander Jaroszak
Yuri Kotskyy
George Kuritza
Nataliya Mariutc
Pavlo Pencak
Sofia Petryshyn
Victoria Shubelyak
Natalia Skyba
Alyssa Staiuk
Andrew Stelmach
The 2021 scholarship application period is now closed. The 2022 application period will open in April of 2022.
Scholarship Rules
Scholarships awarded based on the applicant's written essay or video essay.
Essay topic to be announced.
Only written essays up to approximately 1,200 words in length or video essays/ ads/ informational videos will be accepted.
Video submissions my be of any length with a minimum 1080 resolution and may be created as an ad, documentary or informational/ investigative, vlog, interview, presentation, or review type video with the goal of enticing membership or promoting the credit union.
Entry material consists of a fully-completed, signed ONLINE scholarship application including an uploaded essay or video link. If any portion of the application is incomplete or if any required documents are not included, the application may be rejected.
Applicant must be either:

A graduating high school senior at the time of application and entering his/her freshman year at an accredited college, university or tech/trade school on a full-time basis for the entire 2021/2022 academic year.
A current college student at the time of application and entering his/her succeeding year at an accredited college, university or tech/trade school on a full-time basis for the entire 2021/2022 academic year.

Applicant must be a U.S. citizen, U.S. resident alien or studying on a Student Visa.
Applicant must be an owner, joint owner or custodian account beneficiary on an account at Selfreliance FCU for a minimum of eighteen (18) months as of the application date and in good standing*.
Applicant is eligible to be awarded only one (1) scholarship per academic year.
Applicant agrees to accept the Scholarship Committee's review and decision as final. If the number of eligible applicants is insufficient, as determined at the sole discretion of the Selfreliance Scholarship Committee, all scholarship awards may not be offered.
Applicants must submit a photograph of themselves. Successful applicants will have their picture used in Selfreliance promotions and public social media posts.
By submitting an application, student agrees to have his/ her likeness, name, Selfreliance FCU experience and status used in Selfreliance promotional materials.
All submitted essays, videos and photographs will become the property of Selfreliance FCU.
Selfreliance employees, board members, volunteers and members of their families are not eligible for this scholarship program.
Scholarship rules and dates subject to change without notice.
Please follow the link below to submit your 2021 Application.
Be sure to have the following materials ready to upload:
Your completed essay or video essay link.
Good quality color head and shoulders photo.
Dated most recent school transcript of your GPA showing school info.
Addresses of your current and upcoming school.
---